Many devices and machines taught me that two buttons which form a unit indicate the ability to turn things in one way or the other. We've learned that a button on the right or top means up and a button on the left or below means down. This is deeply integrated in our Western culture and is the same for knobs, screws, caps, locks and so on. We read from left to right and turn things left for up or open and right for down or close. And it seems like Apple realized this in the design shift from the iPhone 5s to the iPhone 6 too, because they removed the plus and minus from the volume buttons.
Come on Apple, you like simplicity! I've never needed that plus and minus to get what those two buttons are for.

Learned interactions with button units, knobs and text in Western culture
Button disctraction 😕
Here's the thing that disctracts me every time I watch a video, I accidently turn volume down while I intended to turn it up. This is because for most videos I turn my iPhone to landscape mode, as a lot of people do. When I turn my iPhone right to landscape, things work like they should. The volume button on the right does what I expect it to do, it turns volume up. And the button on the left of the top of the phone turns – you guess it – volume down. Everything works like I expected and learned in my 26 years on this planet. But when I turn my iPhone left to landscape things get fucked up!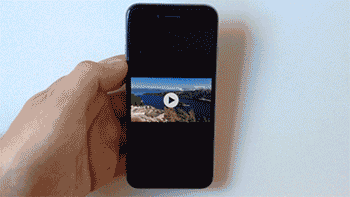 Learned interactions with button units, knobs and text in Western culture
As learned and without actually thinking about it my thumb gets on to the right button on the bottom of the device and press it with the intention to turn volume up. Now guess what's happenin' volume turns down instead of up. The buttons don't function like I expected and learned. Try it yourself, if it doesn't seems wired to you, you may have learned a new behavior just for your phone.

Learned interactions with button units, knobs and text in Western culture
But no worries there's a solution 🙂
If Apple would have used their own magical gyroscope to detect in which direction the phone was turned to landscape, they could automatically change the action the buttons perform. This means if the device was turned left to landscape, the right button on the bottom of the phone can perform the expected action to turn volume up and the left button can perform the other way around. There's no reason for me to not use the gyroscope for this action. In my opinion this should be a default setting and may could be disabled for people who like unexpected behavior or already changed their behavior just for their lovely iPhone. But as a good interaction isn't about learning, I highly recommend Apple to start using their gyroscope.
Please Apple, this is an interaction detail I expect you especially should have solved.
First published by me on medium.com.